Make your space safe

Experience Self Disinfection with PURE 8
Self Sanitize Your Environment

Anti-bacterial, Anti-Viral, Anti-Fungal
Purify Your Air

Don't just mask the odor, Eliminate it at the source
Make your space safe
Experience Self Disinfection with PURE 8
Self Sanitize Your Environment
Anti-bacterial, Anti-Viral, Anti-Fungal
Purify Your Air
Don't just mask the odor, Eliminate it at the source
Our PURE 8 Solution Can Defend Against
Cold & Flu strains, E. coli, Salmonella, Staph, Norovirus, Canine Parvovirus, Mold/mildew, Foul odor, formaldehyde, PM 2.5 and much more!
What is Pure8?
Pure 8 Solution is a non-toxic, water based photocatalytic titanium dioxide (TiO2) solution. With lights, it turns the protect into 1) Anti-viral 2) Anti-bacterial 3) Anti-fungal 4) Anti-algae 5) Anti-static 6) Anti-soiling 7) Deodorizer 8) Decomposition and removal of hazardous chemicals.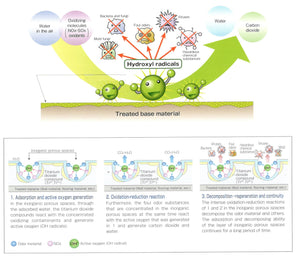 How does Pure8 Work?
Pure8 create a layer of titanium dioxide on the surface of the treated base material. This photocatalytic titatnium dioxide layer, when activated by a light source, create hydroxyl radicals that sanitize and deodorize for up to 90 days.
Testimonials
My husband is a smoker, and he smokes in our family car a lot. I always hated how I would have to constantly spray air freshener in our car. Its the worst during the rainy seasons with that damp musky smoke smell. yuck! When I saw this product at ASD trade show I was hesitant, it sounds too good to be true. Went home and followed the instruction on a weekend morning. I sprayed the inside of the car and made sure to cover all the surface. In about 5 min I finished and noticed that I used about half of the 90ml bottle I got. I am blown away by how effective this product is. My husband took the car after I treated it and when I use the car that afternoon, I could not smell any tobacco smoke at all. They said that it will last up to 30 days but I dont know if it does or not. So far its been two weeks and our family car still smell like a new car!

Jennifer Wilcox
Saw these guys at ASD 2018 trade show and was told that it can eliminate odor from smoke. I love Korean BBQ and was planning to go the same day. I like to play the devil advocate and prove these guys wrong so I got it from them at the show with the intention of showing up the next day to call bullshit to their face. That night after having some gal-bi and beef tongue, I made sure to follow their instructions, I even hanged it under the lamp for a bit. I dont want them to think I half ass anything. All I got to say is that they took my money, and I am happy that they did. Best product ever!

Jason Kim
I met these guys at ASD 2019, and decide to give the product a try on my bull terrier as his bed area tends to smell really strong. Within about 10 minutes applying the spray on the surface area around the bed, I noticed the entire room no longer smell like Rex.

I am shocked and couldn't believe my nose, my wife also noticed the difference, so we applied it in the all boys bathroom and also noticed the difference with the clean smell in the bathroom. Amazing product.

Ed Freeman